Increase the resiliency of your organization
Our Software as a Service (SaaS) solution provides the application management and platform duties for all SimCorp solutions. Not simply pure hosting, it's a full application lifecycle management service delivered with a continuous development roadmap to increase the resiliency and efficiency of your organization. Standardizing operations helps you obtain the full benefit of a Software as a Service and a managed operations-based environment.
SimCorp SaaS at a glance
SimCorp applications delivered as a service on public cloud
Subscription-based commercial model
Automated release upgrades, deployment and testing
On demand additional environments
Single-tenant deployment with as-is configuration
State of the art security infrastructure
Self-service user experience via cloud portal
Why SimCorp SaaS?
End-to-end: One vendor, full service
We take responsibility for the entire stack as well as providing SLAs across the entirety of the service.
Flexibility and scale
When you grow, the SaaS platform seamlessly grows with your business. When you are winning mandates, the service will adjust and scale accordingly.
Faster time to value
SimCorp takes over all testing, so you can realize value from your platform quicker.
Secure and compliant
Backed by Microsoft Azure, our platform supports global and regional compliance requirements. See a sample list here.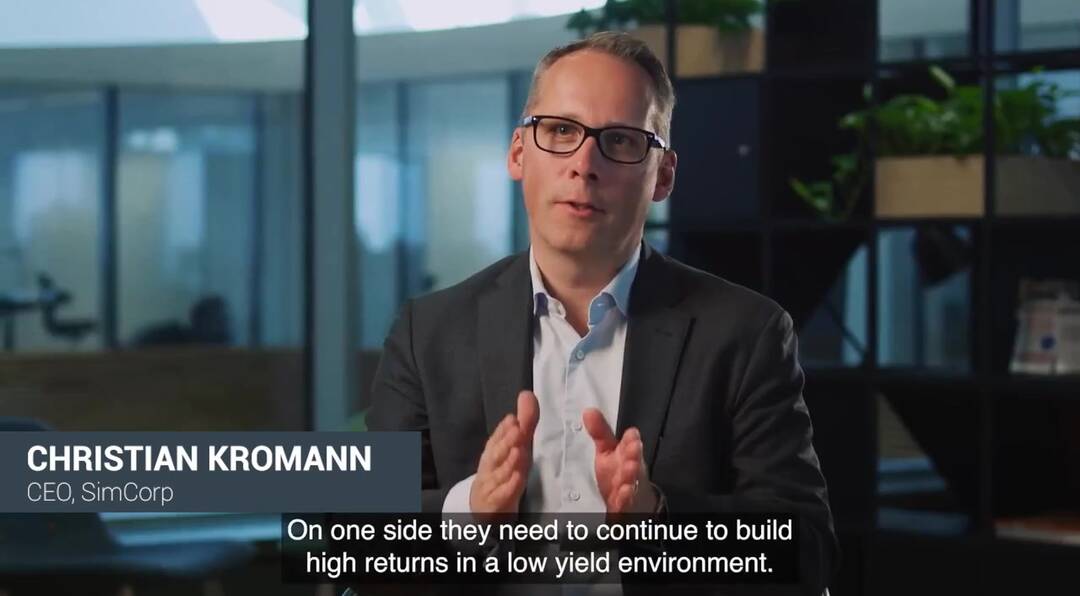 The transformation to SaaS
Our CEO Christian Kromann and Commercial Director for Cloud Service Jacob Højland talk about how we support investment managers' SaaS journey.
SaaS is the sustainable option
SimCorp SaaS offers a demonstrated 70%-90% increase in carbon efficiency compared to an average on-premise setup. See how we're reducing carbon footprint for our clients.
Get in touch
with us today
Get in touch
with us today
Message
successfully
sent
Message successfully sent
Focus on your core business, leave the IT infrastructure to us.
Just fill in your details and we'll get in touch.